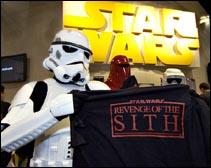 Los dichos que ya daban el nombre de "el nacimiento de un imperio" al episodio 3 de star wars quedaron por los suelos, claro despues de ser uno de los temas favoritos en los foros de la red...
SAN DIEGO, California (AP) -- La parte final de "Star Wars" no es simplemente "Episodio III". Lucasfilm ha anunciado el nuevo título: "Revenge of the Sith" (La venganza del Sith).
"Durante algún tiempo, el nombre que se le da a una nueva película de 'Star Wars' ha asumido un significado especial para algunos fanáticos que aman participar de juegos de adivinanzas y especulación antes de que sea anunciado un título", dijo Sansweet a unos 6.500 participantes de la convención. mientras tanto bla, bla, bla...
Y pensar que ese era el primer nombre que nacio en los foros y luego lo desecharon... y ahora salen con que "si siempre es ese"... Joer... y despues de uno desgartarse haciendo fanposters por todo lado con "the bith empire"...